Food and drink
The ship has two big dining rooms: My Fair Lady (formal) and the Windjammer (informal). There's also a small snack bar serving pizzas, hamburgers, and hot dogs.
I didn't notice at the time, but I see now (too late) that hot and cold hors d'oeuvres are served with wine before dinner in the Champagne Bar on deck 4. This could be a useful alternative to dinner for people who aren't too hungry.
The Windjammer is convenient, quite often open, and pleasant, with big windows over the sea, but offers fairly unpretentious self-service canteen food, quite adequate but not up to the standard that I'd like to enjoy on holiday. We had lunches and most of our breakfasts there.
In My Fair Lady the food is more ambitious, and reaches a good standard considering the large number of people to be fed. The menu offers plenty of choice and includes a full slimmer's menu and a vegetarian main course. However, there we had to dine at 8:30 p.m. exactly, always at the same table, and on formal or semi-formal nights I had to wear the same suit every time (the only formal clothing I'd brought with me — other people had evidently brought more).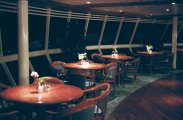 Service is very quick, so dinner doesn't take forever even though there are five courses (and you can ask for more if you're greedy).
After the first night's seating didn't work out (with a French couple who didn't speak English, and some empty seats), we were seated with a pleasant collection of people of roughly our age group: two American couples, one New Zealand couple, and an Indian honeymoon couple who were going to live in Chile.
The food is free but the drinks prices are comparable with north European restaurants, i.e. rather high by Spanish standards, so I ate plenty but drank very moderately throughout. It would have been a good idea to buy a bottle of rum or whisky in the duty-free shop on the first day — much cheaper than buying drinks from the bars. Ice, water, and clean glasses are freely available.
There are eight bars on the ship, and at least one bar can be found open at all times except from 3 a.m to 9 a.m.