Facilities on board
The ship has eleven decks and nine lifts (when they're busy it may be quicker to use the stairs). Here's a summary of each deck:
| | |
| --- | --- |
| 11 | Viking Crown Lounge (upper level). This is a smaller deck accessed by only two of the lifts. |
| 10 | Viking Crown Lounge and bar, upper sun deck, child and teenager rooms, video games. |
| 9 | Main sun deck, two different swimming pools with poolside jacuzzis and bars, sauna, hairdressers, massage, exercise machines, Windjammer Café. |
| 8 | The bridge, the best cabins, Crown & Anchor study, Explorers Club. |
| 7 | Cabins, library, card room. |
| 6 | Two lounges, bar, conference centre, photo gallery, shops, theatre (upper level). |
| 5 | My Fair Lady dining room (upper level), excursion desk, purser's desk, language assistance, casino, theatre (lower level). |
| 4 | My Fair Lady dining room (lower level), champagne terrace and bar, cabins. |
| 3 | Cabins. |
| 2 | Cabins. |
| 1 | Ship's doctor, crew cabins, and passenger exit for shore excursions. |
The swimming pools are not very large — big enough to swim a bit but not big enough to exercise a keen swimmer. I suspect they're filled with seawater (I didn't taste the water to check), and were a bit cold for me, but the jacuzzis are heated.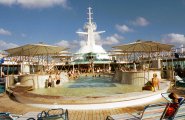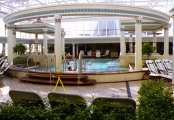 The library is a pleasant room with a number of comfortable armchairs and enough books (hardbacks in good condition) to provide something of interest to most people for a week. It's open for only a couple of hours in the morning and a few hours in the afternoon — I would have liked to be able to go in there at any time.
The card room is quite spacious, with a generous number of good card tables and a small selection of board games, including Monopoly and Scrabble.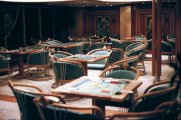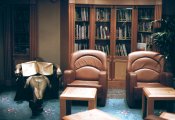 The photo gallery displays photos taken by the ship's photographers, who take photos frequently during the cruise. You can buy any that you like (though they're not cheap). It can be hard to find the photos of yourselves among all the others.
The photo shop sells film and various kinds of cameras (including waterproof and digital cameras), and there are drop-off boxes in which you can leave films for processing and printing.
The other shops sell mostly things you might want to buy as gifts, plus a few things that might be useful on board. There's a duty-free shop selling spirits (not wine or beer) and cigarettes.
There's a splendid theatre with plenty of very comfortable seating — though perhaps not enough to seat all passengers at once. It seems to be used for shows (singing, dancing, and comedy) and not for plays or cinema. We didn't see any of the shows.
The casino has plenty of slot machines as well as roulette and card tables. We tried a slot machine and spent about seven dollars on it; but it gave a payout from time to time, and we could have come out with a profit if we'd stopped after our biggest win. Some people were playing at the tables, though it wasn't crowded.
The purser's desk is where you go if you have some problem or question about the ship's services. You can also phone from the cabin.