Excursions
I think in retrospect that we should have been more sceptical about the excursions. We booked at least one excursion at every stop, and although I have no major complaint about them, some of them were maybe a bit more trouble than they were worth.
Maybe we should have decided at one of the stops to skip the excursions altogether and just go ashore in our own time and explore independently. In good weather, a beach visit and a bit of swimming might have been in order.
The excursions tended to start between 8 and 9 a.m., often involved queuing and bus journeys, and tended to diminish the feeling of relaxation that I'd like to achieve on holiday. We were quite grateful to have a couple of peaceful days at sea during the cruise, with no excursions.
So what did we do?
At Key West, a kayak expedition among the mangroves. This was pleasant and worth doing, and we got a nice little guided tour of Key West thrown in with it. Anyone familiar with kayaks might have found it rather tame, but to us it was a novelty.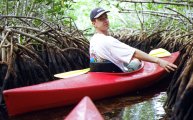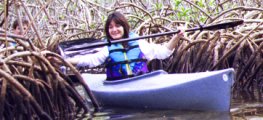 In Mexico, a trip to the ruined Mayan settlement of Tulum. This involved a long bus journey along a straight but narrow road (currently being widened). Our guide claimed to be half-Mayan himself and told us that there are still many people of full Mayan ancestry further inland, speaking the Mayan language. He was quite clever and amusing, and spoke English well (self-taught), but he was also a bit full of himself and didn't actually tell us a lot about Mayan history.
When we got to Tulum, he gave us a talk about it, and then we had a rather short time to explore on our own, so I ran around the site taking photos hurriedly. It's a compact, attractive site with some well-preserved ruins, and even has a beach (which we didn't have time to visit), but I was disappointed to feel little sensation of history there. Perhaps I should blame my own lack of imagination, but I've felt more atmosphere of the past at some other historical sites.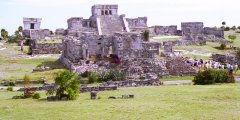 We were given a box lunch to eat on the bus on our way back. It was adequate but not very good. We weren't fed on the other, shorter excursions.
It was quite nice to see Tulum, but the trip was long and rather tiring, and we didn't have enough time at the site. This excursion was highly recommended to us, but I wouldn't really recommend it to you unless you have a particular interest in the subject.
In Jamaica, we visited the Brimmer Hall plantation and Dunn's River Falls (all in the same excursion). It was quite interesting to have a trip through inland Jamaica, which reminded me a bit of the Seychelles (though Jamaica seems more densely populated). The plantation and the falls were OK but I could have skipped them without much regret. We had a rather lazy young woman as guide, who talked to us for about ten minutes and then sat quietly for most of the rest of the trip.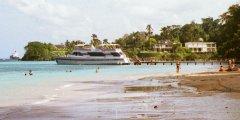 At Grand Cayman, we booked two excursions: a submarine trip and snorkelling with stingrays. The submarine trip was pleasant enough but not wonderful. We went down 100 feet (30 metres), and saw coral and a few fish, all in shades of blue because other colours tend to disappear at depth. I've been on a similar submarine before, in Eilat, Israel. I would have preferred to go scuba diving, as I did in the Seychelles in 1993, but on this cruise only certified divers were allowed to dive, and I'm not certified.
To go snorkelling with the stingrays we had quite a long boat trip to get to the area of shallow sea where the stingrays are found. People have been feeding them there over a long period of time, so they're very tame, and they swim amongst people with no fear or aggression, like puppies in a living room. I was a bit worried that I might accidentally tread on one of them. The sea was about chest high, so even non-swimmers could participate. It was quite fun, and a unique experience, but I didn't become a real stingray fan and would have preferred to snorkel in company with more conventional tropical fish (there were in fact a few such fish accompanying the stingrays). Ana spent only a short time in the water: she found the stingrays disconcerting.