Foremost British male ballet dancer of his generation
by Cherry Palfrey
Blond and blue-eyed, with a smile that lit up his face and a perfectly proportioned body, he was the ideal danseur noble. From the moment he first leapt on to a stage he radiated a charisma and a joy in dancing which, combined with his exceptional talent, won him a loyal following wherever he appeared.
John Gilpin was born in Southsea on February 10th, 1930, the elder and smaller of twin boys. He was so frail that the doctor in attendance didn't expect him to survive but his mother determined otherwise and survive he did.
As the boys' father was in the Royal Navy, the family was constantly on the move, like all service personnel, but whenever possible Mrs Gilpin took her sons to the family home at Dawlish, on the Devon coast. There John and his brother Tony enjoyed a carefree outdoor childhood, swimming, exploring, and running wild, except for their Sunday transformation into cherubic choirboys in Dawlish church. Both of them were musical. Tony became a proficient pianist and John had always, as soon as he could walk, instinctively danced whenever he heard music.
When John was seven he was still undersized and a doctor advised Mrs Gilpin to give him regular exercise to build up his strength. In the teeth of opposition from his father's family she sent him to dancing classes, which in the view of many people at the time was equivalent to putting him in skirts. With her husband away at sea so often, it was left to Mrs Gilpin to bring up her sons as she saw fit, and it took a lot of courage for her to stick to her convictions. John was in his element at dancing classes and was lucky in having good teachers wherever they lived.
A milestone came at the 1938 Plymouth Society of Music Festival Competition, where John won in four categories. More importantly, one of the judges was Olive Ripman who came to Mrs Gilpin afterwards and offered her son a scholarship at Cone-Ripman (now Arts Educational), one of the best theatre schools in the country. This was an even more crucial decision because Mrs Gilpin had never thought of dancing as a career for John, merely as an enjoyable pastime, and the very idea brought another horrified family reaction. However John's mother would never deny him an opportunity and so she and both boys took up residence in London in 1939, as war broke out, while John attended Cone-Ripman as a day boy. When the bombs began to fall and the school was moved to country locations ever further from London, John became a boarder and Mrs Gilpin took Tony back to Dawlish.
The school encouraged its pupils to take professional engagements and, while never neglecting his dancing, John began a flourishing career as a child actor. In 1942 he had a small part in the Vera Lynn film We'll Meet Again and at Christmas that year and the next he played Michael in Peter Pan at the Winter Garden theatre, the second time with Glynis Johns as Peter and Alistair Sim as Hook.
Earlier in 1943 he was awarded the Adeline Genee Gold Medal of the Royal Academy of Dancing at the unprecedentedly early age of 13. Among the judges were Ninette de Valois and Marie Rambert, the two great founders of British Ballet.
John's next film was They Were Sisters with Phyllis Calvert and James Mason. In 1944 he did a lot of radio work and played Robin in Daphne du Maurier's The Years Between for a long run at Wyndham's Theatre, then repeated the part for the film with Valerie Hobson and Michael Redgrave.
In 1945 John had just been given the coveted title role in Terence Rattigan's The Winslow Boy when Marie Rambert offered him a place as soloist in her company. It was a crossroads and this time he had to make his own decision, but dancing had always come first with him and he was grateful for Rattigan's understanding when he withdrew from the play.
On November 5th 1945 John Gilpin made his debut with Ballet Rambert, dancing the Scotch Rhapsody in Facade and Tyrolean in Soiree Musicale. It was a small company led by Walter Gore and the magical Sally Gilmour, with a unique repertoire of short works by Fokine, Ashton, Tudor, Gore, Andrée Howard, and Frank Staff, interleaved with classical pas de deux such as Bluebird. Rambert worked everyone to exhaustion and John often found himself dancing four ballets a night. He partnered Sally Gilmour, Belinda Wright, and Annette Chappell, learning the skills that made him such a reliable and attentive partner throughout his career.

By the time he was sixteen he was trying his first Le Spectre de la Rose, a role that he made unforgettably his own for everyone who ever saw him dance it. The first part he created was the Rabbit Catcher in Howard's The Sailor's Return, attracting much favourable comment.
In 1947 Ballet Rambert set sail for a projected six-month tour of Australia and New Zealand, arriving in Melbourne in November. Mrs Gilpin had been worried about letting her son travel so far from home at 17 but bravely waved him off. The tour was such a success that it was extended and what was left of the company, for many dancers including Gilmour had stayed in Australia, didn't arrive back in England until February 1949. John Gilpin had become so unrecognisably tall and tanned that his waiting family walked straight past him at the docks.
While acknowledging his debt to Rambert, Gilpin felt that it was time for him to move on, and so joined Roland Petit's Ballet de Paris to extend his range and experience the French repertoire. At that time Petit had just had a short London season, premiering his sensational success Carmen, and was touring the provinces before a second appearance at the Princes Theatre (now the Shaftesbury) from April 25th until May 14th 1949. The company was already strong in male dancers, with Petit himself, Skouratoff, Miskovitch, Perrault and Briansky, and so there was little chance for Gilpin to shine, except in the occasional classical pas de deux with Belinda Wright, who had also joined from Rambert. He enjoyed himself as a chef in the hell's kitchen of L'Oeuf a la Coque and a cartwheeling bandit in Carmen and made the most of the Dandy in a truncated version of Beau Danube.
One of the few opportunities John ever had to work with Frederick Ashton came during this London season when Ashton agreed to take over the choreography of the disaster-ridden Le Rêve de Leonor, to a surrealist scenario by the designer Leonor Fini. At the eleventh hour the intended music became unavailable and so they used Britten's Variations on a Theme of Frank Bridge instead. Gilpin created the role of Le Roi-Nougat who metamorphosed into a swan, but possibly a bald Jeanmaire frantically chasing a flying wig across the stage was the most bizarre scene in it. The ballet was short-lived. The company, with John, returned to Paris for a long summer season at the Theatre Marigny but after this they were contracted to go to Hollywood to film Carmen. The prospect held little appeal for Gilpin and when he received an offer to join the much larger Marquis de Cuevas Grand Ballet de Monte Carlo, he took it and began rehearsing with them in Paris. (In fact, although the Petit company hung around Hollywood for months, the Carmen film was never made.)
The de Cuevas company was headed by Rosella Hightower, Marjorie Tallchief, Andre Eglevsky, George Skibine (Tallchief's husband), and Serge Golovine. Once again Gilpin had to be grateful for what parts he could get, with such established stars taking the plums, but he was delighted to be able to dance Le Spectre de la Rose alternately with Golovine. His big chance came when Eglevsky tore a leg muscle shortly before the premiere of the new John Taras ballet Persephone. Gilpin was given three days to learn the lead part and dance it with Rosella Hightower. He acquitted himself so well that he partnered Hightower in the Nutcracker and Black Swan pas de deux too. He hadn't previously danced Black Swan and so the wounded Eglevsky nobly taught it to him.
After the season in Monte Carlo, followed by tours of France and Spain, John became homesick. During his European wanderings he'd made many firm friends and learnt to speak fluent French, but he'd been out of England for too long. With no definite plans, he returned to London at the end of June 1950 and went to classes at the Cone-Ripman school. It so happened that at this time the impresario Julian Braunsweg and world-famous dancers Anton Dolin and Alicia Markova were planning a major new company and recruiting their corps de ballet from Cone-Ripman.
When Grace Cone and Olive Ripman advised their ex-star pupil to contact Julian Braunsweg, John went to see him, making such an impression that Braunsweg immediately telephoned Dolin in Paris and said they must have Gilpin. Dolin was not keen. He'd had an inauspicious first meeting with John the previous summer when he'd walked into a de Cuevas rehearsal, ascertained which was Gilpin and, saying "Marie Rambert asked me to give you this," without more ado kissed him. The dumbfounded John could mutter nothing more than an embarrassed "Thank you", whereupon Dolin marched out thinking what a conceited young pup he was. Now he was being asked to engage the young pup. Before making a decision he consulted Rambert and various dancers whose opinions he valued. They all told him that John was a fine dancer, shy rather than conceited and popular with his colleagues.
Thus it was that at the age of twenty John Gilpin found himself a principal dancer with what was to become Festival Ballet, sharing lead roles with the legendary Dolin. It must be said that after working with him, Dolin's antipathy to Gilpin soon dissipated and he became mentor and friend for over thirty years till John's death.
As the company assembled, Gilpin suggested that Tony join them. The brothers had seen each other only during holidays since John became a boarder at Cone-Ripman and this was a good chance for them to reunite. Initially Tony thought of being the rehearsal pianist but in the end he found the perfect niche as Stage Manager under the capable direction of Ben Toff. Tony took to the theatrical life like a duck to water, becoming reliable and efficient backstage, sharing a dressing-room with John and even doing the odd walk-on part for the heck of it.
The new company, called variously Ballet Royale and Gala Performances, began its opening tour at Southsea on August 15th 1950, with lead dancers Alicia Markova, Natalie Krassovska (also known as Natalie Leslie), Ana Cheselka, Anton Dolin, and John Gilpin. Soloists were Anita Landa, Noël Rossana, Louis Godfrey, and Vassilie Trunoff, supported by a large corps.
Then Alicia Markova noticed the nationwide stir that the forthcoming Festival of Britain was causing and suggested the name Festival Ballet. This was well received and used for the first time when the company reached Edinburgh on October 9th. It was at the Stoll Theatre (now no more) on Kingsway that Festival Ballet opened its London season on October 24th with The Nutcracker starring Dolin as the Prince and Markova as the Sugar Plum Fairy, followed by Massine's Le Beau Danube starring Gilpin as the Hussar and Krassovska as the Street Dancer.
Newspaper reviews next morning were very favourable and the houses, from the outset respectable, became gradually fuller. Within days the repertoire extended to include Les Sylphides, ( Markova, Rossana, Audrey Harmon, and Gilpin), the first-ever British production of Petrouchka, (Krassovska, Dolin, and Anthony Burke), the Markova/Dolin Giselle and Act II Swan Lake (Markova/Dolin and also Krassovska/Gilpin). There were several light-hearted curtain raisers — Capriccioso and Fiesta — suitable for a young company, and Dolin's famous solo to Ravel's Bolero.
Markova had for years been partnered only by Dolin and was strongly averse to dancing with Gilpin, twenty years her junior. However as she herself had stipulated that she wouldn't appear in more than four or five ballets a week, she could hardly complain when Dolin refused to do more than the occasional Sylphides (a part he detested) and insisted on sharing most of his roles with Gilpin. With bad grace she did her Sugar Plum in Gilpin's first Nutcracker on November 13th and, after all the fuss, he was visibly apprehensive. The same evening was memorable for Leonide Massine's appearance as the Hussar, the role he had created for himself, in Le Beau Danube. Later he also danced Petrouchka. He was the first of the illustrious guest artists it became Festival's policy to invite, although Sally Gilmour gallantly stepped in quite unheralded to dance Giselle for a Saturday matinee when Markova was suddenly indisposed.

On December 6th Gilpin gave, with Anita Landa, his first Le Spectre de la Rose for Festival and received an ovation.
Mrs Gilpin, sitting in the stalls with her husband, was rewarded for her long struggle to give John the career he was born for. She was very proud of him. There was almost universal acclaim from the critics. Cyril Beaumont, the doyen of them all, one of the few who had actually seen Nijinsky's original creation, gave Gilpin his seal of approval.
The next guest artists were David Lichine, who came to choreograph a new version of Harlequinade to the familiar Drigo music, and his lovely ballerina wife Tatiana Riabouchinska who, unlike Markova, was perfectly happy to dance with Gilpin. It was by pure accident that during one rehearsal she sloshed him in the face and came off murmuring sorrowfully "I knock off 'is nose!"
On December 23rd 1950 came the first night of the old children's play Where the Rainbow Ends, with Dolin as St. George and Gilpin as The Slacker. On December 26th Harlequinade (Riabouchinska, Gilpin, Keith Beckett, Geoffrey Webb, etc.) had its premiere to a mixed reception. The audience seemed to like it, especially as a vehicle for the principals, but many critics panned it and after a few seasons it dwindled to just a showpiece pas de deux for Gilpin and Diane Richards or eventually Belinda Wright, who joined the company in October 1951.
Gilpin had a busy Christmas season, appearing in Rainbow Ends every afternoon and dancing Harlequinade and Nutcracker every evening, although Dolin put in an occasional appearance in the latter.
On January 13th 1951 there was a packed house for an all-Gilpin evening of Sylphides, Harlequinade, and Beau Danube. The season ended on January 20th with Harlequinade and the Riabouchinska/Dolin Giselle. At the curtain Dolin made a gracious speech, thanking his audience for their loyalty and presenting in turn for applause Riabouchinska, Paula Hinton (who'd danced an implacable Myrrthe, Queen of the Wilis) and lastly Gilpin, remarking "Someone of whom I am jealous. He dances so darned well."
The curtain came down to enthusiastic applause and, remarkably, in one London season Festival Ballet had established itself as an important presence on the ballet scene. Its prestige had been enhanced socially by two charity Gala Performances, the first in aid of the Royal Academy of Dancing rebuilding fund and the second in aid of the Three Arts Club. The first had been attended by the dowager Queen Mary and the second by the then Queen Elizabeth (later the Queen Mother), Princess Margaret and Princess Marie Louise (granddaughter of Queen Victoria and first cousin of King George V). Both galas attracted a glittering audience, some of whom became devotees of the company. Princess Marie Louise so enjoyed the performance that she agreed to become the company's patron, a position she held until her death in 1957.


John Gilpin was thereafter to spend most of his career with the company, its name expanded to London's Festival Ballet for its first overseas season, in the spring of 1951, at Monte Carlo. There he renewed his acquaintance with Princess Antoinette of Monaco and her young children, whom he'd met while he was with de Cuevas.
On July 2nd 1951 Gilpin danced Albrecht, for the first time in London, to Markova's Giselle. She had been even more reluctant than with Nutcracker to have him as partner. Possibly it was the resulting nervous tension that lent his acting such intensity, for he gave a wonderful performance. Albrecht became one of his key roles and he danced it with many partners, including Riabouchinska, Krassovska, Wright, and Liane Daydé, star of the Paris Opera. That same season he added the Black Swan and Bluebird pas de deux to his Festival repertoire, both with great success.
During the Monte Carlo season at Christmas 1951 Alicia Markova left the company, pleading a foot injury, although she returned for frequent guest appearances. Three days after her departure Dolin hurt his knee and was out of action for three months. He managed to teach many of his roles to the dark, flamboyant Oleg Briansky, who made an admirable foil for Gilpin. Tamara Toumanova (with her formidable Mama) arrived to star in Markova's place for the provincial tour and spring season at the Stoll in 1952. Festival Ballet soldiered on without either of its two original main attractions.
The big success of this last Stoll season was, in April, Frederick Ashton's Vision of Marguerite, a 3-hander re-working, to the same Liszt music, of the Mephisto Waltz he'd created for Markova and Rambert many years previously. Now that Markova had gone, Belinda Wright danced Marguerite, Gilpin the romantic Faust, and Briansky the suitably devilish Mephisto.
In July 1952 Festival's new London home became, appropriately, the Royal Festival Hall and in their first season there came the premiere of Michael Charnley's Symphony for Fun to the Don Gillis Symphony Number 5½. This was a high-spirited, jazzy romp, led with exuberance by Gilpin, and proved enormously popular both with the company and audiences.
In 1953, Coronation year, the company made its first visit to Paris, four weeks at le Theatre de l'Empire, which included a Homage à Fokine evening of Sylphides, Spectre de la Rose, Scheherazade, and Prince Igor. As Gilpin took his curtain calls after Spectre, which had gone exceptionally well, the great French ballerina Yvette Chauviré stood up in her box, looked at the audience, indicated the stage and called out "Voila! C'est ça le vrai Spectre de la Rose" — a tribute that Gilpin never forgot.
It is perhaps worth mentioning that only once did Gilpin dance the Gold Slave in Scheherazade and that was in Barcelona with Danilova. It could have been interesting.
Then Festival embarked on a tour of Canada and were in Montreal at the time of the actual Coronation. Back in England their new works included Vilia (Daphne Dale as the Widow, Dolin as Baron Popof, and Briansky/Gilpin alternating as Danilo) and Michael Charnley's Alice in Wonderland to specially composed Joseph Horowitz music, which premiered in Bournemouth on July 2nd 1953 with Belinda Wright as the ideal Alice, Gilpin as the White Rabbit, and Keith Beckett as a memorable Mad Hatter. Gilpin, although hating the stifling animal mask, enjoyed doing a character part and always thought it a pity that the ballet hadn't been retained as a Christmas attraction as a change from the everlasting Nutcracker.
The much-loved ballerina Moira Shearer sustained a foot injury that brought an abrupt and premature end to her ballet career. Against doctor's orders she insisted on fulfilling her contract with Festival in Monte Carlo. Her final performances were as the Young Girl to John Gilpin's Spectre de la Rose in January 1954.
In 1955 the Danish choreographer Harald Lander mounted for Festival his Etudes to music by Riisager based on Czerny's studies, which had originally been created for the Royal Danish Ballet in 1948. This was a seemingly simple conception of dancers doing a class, going from barre to centre work and finishing with a dazzling display of technical fireworks for the ballerina and two leading men, supported by the corps de ballet. The clever choreography and imaginative lighting led up to such an exciting climax that, when danced by Toni Lander, John Gilpin, and Flemming Flindt, it roused any audience to cheering pitch at every performance.
For Gilpin, soaring high above the corps and tossing off his 32 fouettés after multiple pirouettes, it was another landmark role. The virtuouso brilliance of it was in total contrast to the fluid beauty of his Spectre.
London's Festival Ballet was honoured in April 1956 by an invitation to appear in the Gala Performance to celebrate the wedding of Prince Rainier III of Monaco to the American film star Grace Kelly. The Paris Opera Ballet was also taking part and rivalry was intense, especially as Etudes was in the repertoire of both companies and each wanted to dance it. In the event the French company premiered Serge Lifar's Divertissement à la Cour, Festival gave Etudes and the Pas de Quatre, Margot Fonteyn and Michael Somes represented the Sadler's Wells Ballet with the Aurora Pas de Deux and the performance ended with Festival's Homage to a Princess, created for the occasion by Michael Charnley. The programme was televised all over Europe as part of the Eurovision Gala Presentation to an audience of 20 million people.
A completely different engagement followed in June of that year when Festival Ballet became the first major company to dance in Israel, playing to packed houses in the Habimah Theatre, Tel Aviv, in the open air at two Kibbutzim near the Sea of Galilee, in Haifa and the Ramat-Gan Sports Stadium. Between London seasons, Festival toured all over the world, making the company and John Gilpin famous in countries that knew nothing of Sadler's Wells, Margot Fonteyn or Robert Helpmann.
1957 saw a sixteen-week tour of Europe. While in Paris, Gilpin was very excited to hear of Jack Carter's offer to mount his Witch Boy for Festival. This ballet, originally created for the Netherlands Ballet, was adapted from the play Dark of the Moon, based on the American legend of Barbara Allen. The title role of the tragic supernatural Witch Boy was strongly dramatic and would give Gilpin a rare chance to show his acting ability after so many romantic princes and technical wizards. Julian Braunsweg was not keen on the idea. Festival Ballet was a mammoth operation to fund and he was always teetering from one financial crisis to the next. Witch Boy didn't sound like good box-office to him and he delayed his decision until Gilpin reached desperation point. Finally Braunsweg was swayed when he heard it would be cheap to put on and it received its first night at the Manchester Palace on November 27th 1957, with Gilpin as the Witch Boy who is lynched and reborn, Anita Landa as Barbara Allen who dies for love of him and Anton Dolin as the Pastor who incites the lynch mob.
The ovation it received from its audience and the glowing reviews from the critics ensured it a secure place in the repertoire. The Witch Boy joined Spectre, Etudes, and the Nutcracker Prince as roles forever associated with Gilpin, at least for his lifetime. (Fame is ephemeral.)
It was appropriate then that also in 1957 Braunsweg enlisted the aid of the venerable Alexandre Benois, designer for Diaghilev and by now in his eighties, for a completely new production of The Nutcracker with choreography by David Lichine. As well as designing the sets, Benois was able to remember the whole story, bar by bar of the entire Tschaikovsky score, as it had been performed in his youth and far more magical than the previous Festival version. It became the Christmas attraction for the Festival Hall season of 1957/58 and one of the biggest successes Festival Ballet ever had.
John's achievements were recognised in A & C Black's John Gilpin, one of their Dancers of Today series. The book contained photographs from his childhood through all phases of his career. The introduction was given by Cyril Swinson who, after a short biography, gave an appreciation:
"He has the physique of a young Greek God ... natural grace of movement and an innate musical sense which has always given his dancing an easy rhythmic flow ... astonishing elevation, great speed and attack and superb physical control ... On the stage Gilpin's personality reveals at once that he has 'star quality' ... No other English dancer, and few others elsewhere, has such a compelling stage personality: it fills the largest theatre, even the Festival Hall ... Gilpin is the company's most popular dancer and its outstanding personality ... He may well be included among the few great male dancers of the twentieth century. But for the time being we may acclaim him as the outstanding male dancer in England and one of the great dancers of the world today."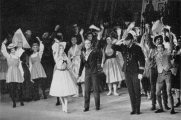 Anton Dolin and Noël Coward were old friends and during 1958 they discussed the possibility of Coward mounting his first (and as it turned out, his only) ballet for Festival. Noël Coward wrote the music and a detailed scenario while Jack Carter supplied the choreography for London Morning, set in front of the gates of Buckingham Palace, with a cast of Guardsmen, nursemaids, tourists, Londoners, and a lead part for Gilpin as a sailor home on leave. After rehearsals in Barcelona and Lausanne it had its London premiere on 14th July 1959. The reviews were lukewarm but the public, in England and on the Continent, loved it and it stayed in the repertoire for three years.
Noël Coward had watched almost everything Festival had to offer during his time with them, and in his diary for 11th May 1959 he noted, "John Gilpin, I think, is the finest male dancer I have ever seen."
In August 1960 John Gilpin married Sally Judd, a member of the corps de ballet, in a full scale production at St.Mary's Church, Kensington, attended by friends, family and the whole company. Anton Dolin escorted Princess Antoinette of Monaco at the ceremony.
However at the end of that Festival Hall season, Gilpin and his wife left Festival Ballet, John feeling that he needed to stretch his wings after ten years with the company. With Dolin, Belinda Wright, and South African ballerina Toby Fine they toured South Africa as Celebrity Ballet, without a corps, in what were virtually concert performances but very successful.
Gilpin was dancing with Carla Fracci in Milan when he received an offer from Ninette de Valois to join her company as permanent guest artist. He was delighted to accept and made his Covent Garden debut on 18th April 1961 as the Blue Boy in Les Patineurs. It was a virtuoso role with an engagingly extrovert character that should have suited him down to the ground but somehow he didn't feel happy in it and was further hampered by a slight back injury. To his sorrow he was never offered another Ashton part but went on to do the familiar classical princes and his first full-length Sleeping Beauty, with Antoinette Sibley.
One notable experience came at this time, when the prima ballerina Margot Fonteyn held her charity Gala Performance at Drury Lane on 2nd November 1961 and chose to dance the Young Girl to Gilpin's Spectre de la Rose although the newly-arrived Nureyev had also wished to dance the Spectre.
Nevertheless Gilpin was not making the progress he had hoped for at Covent Garden and so when Julian Braunsweg contacted Ninette de Valois to plead that he had no Prince for his Christmas season of The Nutcracker and could he please have John back, John went. He wondered ever after whether he had made the right decision or whether he should have persevered a little longer with the Royal Ballet, but the die was cast.
Back to the old firm, Gilpin once again led Festival Ballet for their triumphal, if expensive, progress round the world.
For John personally, 1962 was important for the birth of his daughter Tracy, who was to be his only child.
The Russian choreographer Vaslav Orlikovsky created one of the last of Gilpin's signature roles with Peer Gynt, a full-length work based on the Ibsen play. It was ideal for Festival in that everyone had heard of it, the Grieg music was familiar, but no-one had ever seen it danced before. After a premiere in Monte Carlo in April 1963 it had a sell-out season at the Festival Hall and was a huge success.
In the spring of 1965 Gilpin was invited by Lucia Chase, founder and director of American Ballet Theatre, to do a short guest season in New York where he was reunited with Toni Lander for Etudes and also danced Albrecht in Giselle, Les Sylphides, and the pas de deux from Esmeralda.
He returned to England to play Prince Siegfried in Festival Ballet's first full-length Swan Lake. Unfortunately this vastly over-budget production literally bankrupted the company. The Arts Council stepped in to save Festival Ballet, but in the process Julian Braunsweg was forced to relinquish all involvement with the company he had created. Donald Albery was appointed Administrative Director with John Gilpin as Artistic Director, assisted by John Auld, while continuing as Principal Dancer. The company danced on.
In 1966 Gilpin found time to accept Ruth Page's invitation to guest with the Chicago Ballet for the Christmas season of Nutcracker, followed by a short tour of the Mid-West.
1967 saw him playing the Prince in Festival Ballet's first full-length Sleeping Beauty with the Parisienne ballerina Noella Pontois as Princess Aurora. The double duties of Artistic Director and Principal Dancer were proving a strain and Gilpin had to tell Donald Albery that he couldn't continue doing both and would prefer to relinquish directing. Beryl Grey took over as Artistic Director in 1968.
In February 1968 Margot Fonteyn was invited as guest artist for Festival's season in Venice to dance Aurora in Sleeping Beauty and in Balanchine's Night Shadow. Gilpin had been a Blackamoor in the De Cuevas production of this ballet many years previously and was now happy to dance one of his favourite roles, the Poet, with the Sleepwalker of Margot Fonteyn.
It was probably the last triumph of his balletic career. For some time he'd been aware of a problem with his legs, which were increasingly painful when he danced. He'd been reluctant to seek medical advice for fear of what he might be told but at the beginning of 1969 there was a night when the agony was so intense he was forced to call a doctor, who whisked him into hospital for a seven-hour operation. He'd had a massive blood clot in the artery below his right knee and the surgeon was just in time to save his leg. Three months after his sojourn in hospital he was dancing Sleeping Beauty again and he tried to tell himself he'd made a full recovery. But then another clot developed in his left leg and he was back in hospital for a second operation.
In the middle of all this came an amicable divorce from Sally Judd in 1970. The marriage had been virtually over for several years as she was pursuing her own career in London while he was here, there and everywhere, hardly ever home.
In June 1971 Gilpin made another comeback for a Gala Performance at the London Coliseum. As one newspaper reported, "The Gala was highlighted by the return of John Gilpin, making a rare and rapturously received appearance after recovering from his thrombosis."
Alas, John Gilpin had not recovered from his thrombosis and in all had six operations on his legs. After the fourth he went in October 1976 to Tokyo Ballet to produce and dance in Anton Dolin's Variations for Four. This had been created in 1957 for four male dancers as a companion work for the ballerina showpiece Pas de Quatre. Gilpin managed to get through two performances but with such difficulty that he had to accept that they were the last of his ballet career. He had always lived to dance. If he wasn't a dancer, he was nothing and it would have been easy for him to sink into despair.
Instead, in March 1977, he accepted the post of Artistic Director for the Pittsburgh Ballet Theatre but found standards there very different from what he was used to and resigned after a year.
It was a relief for Gilpin to return to England and then he was almost immediately summoned to Madrid by Anna Lazarro of Ballet Classico, who was directing a TV series for which Anton Dolin had already arranged to talk. When Gilpin arrived he was persuaded to dance some of the Variations for Four, which he did on the understanding that they could be filmed in several parts, allowing him to rest in between. Later in the same year he contributed some acting and non-classical dancing to a performance for Anna Lazarro of Carmina Burana to 13th Century music.
His next project was a three-hander play by Maxim Mazunder, Invitation to the Dance, based on Gilpin's own life story, for performance in Newfoundland in 1980. He was due to go there for pre-production planning but had to delay in order to have his fifth operation, to have a plastic artery inserted in his right leg.
He was about to set out for Italy to play Oberon in Lindsay Kemp's Midsummer Night's Dream when he had to cancel because his right leg went cold from the knee downwards. The new plastic artery had blocked and he had his sixth operation to restore circulation. For six weeks afterwards he could barely hobble but somehow got himself to Newfoundland in time for Invitation to the Dance in July 1980. It was the first straight play he'd done since he was a teenager and he was nervous but it was very well received. He stayed there to do the revue Oh Coward in tribute to his friend Noël and then finally achieved his Oberon for Lindsay Kemp. In 1981 he repeated his successful Invitation to the Dance in New York.
Gilpin's autobiography was published in 1982. It ended on a note of great optimism. His career had taken a new direction and he was eagerly looking forward to the next phase of his life.
On July 28th 1983 John Gilpin married Princess Antoinette of Monaco. A matter of weeks later, on September 5th, he died suddenly of a heart attack.
The ultimate tragedy is that none of his filmed performances is currently available. A film would convey nothing of his live personality but would at least show his artistry and technique. As things stand, John Gilpin lives only in the memory of those who saw him dance.
John Gilpin's awards included:
| | |
| --- | --- |
| 1943 | Adeline Genée Gold Medal from the Royal Academy of Dancing |
| 1957 | Prix Vaslav Nijinsky in Paris for the male dancer of the year, won for his performances of Albrecht and Le Spectre de la Rose |
| 1959 | Anton Dolin award for dancer of the year, presented in London by Princess Antoinette of Monaco |
| 1963 | Queen Elizabeth II Coronation Award for services to British Ballet |
| 1964 | Etoile d'Or for dancer of the year in The Nutcracker, at the International Festival of Dance in Paris, the first English dancer to receive it |
---
Sources of information:
Personal diaries
A Dance with Life by John Gilpin, published in 1982 by William Kimber and Co. Limited
John Gilpin by Cyril Swinson, published in 1957 by Adam and Charles Black